Pre-School
At 3 years of age your child will move to our separate Pre-School building with its own outdoor area.
The outdoor area has a den, playhouse, planters for growing and digging, sandpit, water tray, chalkboards, mud kitchen, seating and is well equipped with toys, building blocks, crates, scooters and bikes. Children go to the adventure playground on site and for walks in the woods, hunt minibeasts and have stories under the trees.
Pre-School children have some special activities throughout the year that Parents/Carers can get involved in:
Annual Sports Day
Christmas Carols in Blakemere Courtyard
Graduation Ceremony on leaving Oakmere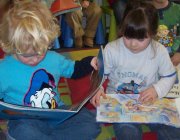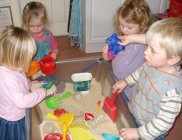 The learning areas and daily routine are similar to a Reception class in Primary School with register time, snack time and library; this is good preparation for when your child moves on in their school career. We have good links with many local Primary Schools and Reception class teachers are invited to come to Oakmere to discuss individual children's progress.
A typical day for your child in Pre-School might include the following activities:
painting
drawing
craft activities
play dough and plasticine modelling
junk modelling
Makaton
number work
shapes and colours
mark making
sand and water play
story time
singing and music
music and movement
yoga
Spanish
circle time
parachute games
bat and ball games
climbing
riding
planting
cooking
role play
big and small construction
small world table top activities
educational computer games
running around on the field
Daily Routine
| | |
| --- | --- |
| 08.00 | Parents and children are welcomed into Pre-School. Free play activities are chosen and set up. |
| 09.00 | Register is taken, the children self register using their picture with their name on. Staff and children plan the day's activities. |
| 09.15 | Hand washing and breakfast time. |
| 10.00 | Free play time, the children independently choose their activities and can change them freely/adult led activities. |
| 11.00 | Outdoor time in the outdoor area or a walk in the woods / Adventure Playground. |
| 12.00 | Hand washing and lunch. |
| 12.30 | Registration time for the afternoon session. |
| 12.45 | Free play activities/adult led activities. |
| 14.00 | Outdoor time in the outdoor area. |
| 15.00 | Hand washing and tea time. |
| 15.30 | Story time. |
| 15.45 | Free play activities/adult led activities. |
| 17.00 | Hand washing and snack time then free play. |
| 18.00 | Home time. Parents will be briefed about their child's day. |
This is a general overview of the daily routine. Activities and the times may change.
Contact Us
Oakmere Children's Nursery
Blakemere Village
Chester Road
Sandiway
Northwich
Cheshire
CW8 2EB
01606 889 336